I would have to say my main interest is animals.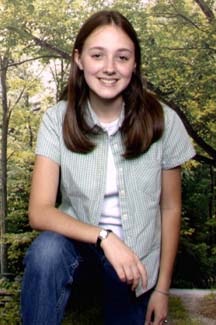 My family has 12 pets at the moment. 7 of them are mine exclusively. I have a cat, a rabbit (she lives outside in a hutch), a Quaker parrot, and 4 veiled chameleons. (one is a year old male, the others are babies that hatched around July 6)

As for the other 5 pets? We have a family dog, and my mom has two hermit crabs and two parrots.

My mom doesn't seem to have a problem with which pets I get- just how many. The only animals she's ever told me I was never allowed to have was a pair of Madagascar Hissing Cockroaches. (I still think she should have at least thought about it)

I also like drawing, painting, and crafts in general.
I am fond of cartoons and comics. I draw pretty well, and I can draw realistic things (mainly animals), or cartoons. Hopefully, soon I will put some of my drawings on this site. I also paint- oil, acrylic, doesn't really matter.

I've got a job at Ace Hardware. My aunt and uncle own it and my mom decided she'd take me there. I'm a cashier, which is cool.

Last year I tutored at a Custer Elementary School four days a week. I work for Habitat for Humanity when I can find the time. I'm tutoring again this year, but I have to figure out when I can work it into my schedule.

This year I started drivers ed. I've got my level 1 licence, but I'll never get my hours in because my mom is too scared to drive with me. Her reasoning- "I've never driven with you before, so I dont trust you yet." How's that one going to change?